Club History
Thorny Lea Golf Club - Established 1900 - Brockton, Massachusetts
The first hooks and slices at Thorny Lea Golf Club in Brockton were executed on Alfred Morse's cow pasture that now serves as the club's sixteenth fairway. The founders of Thorny Lea were West Elm Street friends and neighbors who had common interests. Most were professionals or leaders in the manufacturing of shoes, Brockton's primary export at the end of the 19th century. They also shared a passion for a game that was quickly gaining popularity in America.
A Two-Man Dream
Thorny Lea began as the dream of two men, William Monroe Nute and Herbert L. Tinkham. Nute was a 39-year-old executive for Howard & Foster Shoe Company, and Tinkham, 34, was the treasurer for of the W. L. Douglas Shoe Company. Nute and Tinkham herded cattle away from Morse's pasture and stepped off a rudimentary layout of five holes. The holes were short and primitive. The fairways were far from manicured. Grass didn't need mowing, either. Morse's cows maintained the fairways by eating the overgrowth. The greens, however, were another matter. In an effort to keep them smooth for putting, wire fences were built around each one. Often, the cows would break through the fence and feast.
It was Nute's wife, Harriet, who came up with the name for the club. Several names were suggested and rejected. Harriet Nute had been reading a Scottish novel in which a setting was described a thorney, briery place. It made her think of her husband, William, because most of his golfing hours were spent extricating his errant shots out of similar patches of shrubbery.
Slight change in name
The name of the club during its earliest years was Thorney Lea and remained so until 1906 when it was changed to Thorny Lea. The switch was not a mandate of the membership. It came about because of an engraver's error. The club commissioned a silver cup that was going to be presented annually to the club champion. However, when the cup arrived, the club's name was spelled Thorny Lea. Members agreed it was easier and cheaper to keep the new spelling than it would be to purchase a new cup.
There have been plenty of golfing exhibitions at Thorny Lea. When it was a nine-hole course, two of Great Britain's top players, George Duncan and Abe Mitchell, played against Brockton champions and a Harvard law student, the immortal Bobby Jones.
Thorny Lea nearly became a Donald Ross course in 1924. The famed architect had surveyed the land the year before and given an estimate of the cost expanding the course by constructing nine additional holes. Although the club went on record as favoring an 18-hole course, there was a change of opinion among some members and they voted instead to make improvements to the existing nine holes.
Stiles & Van Kleek add nine holes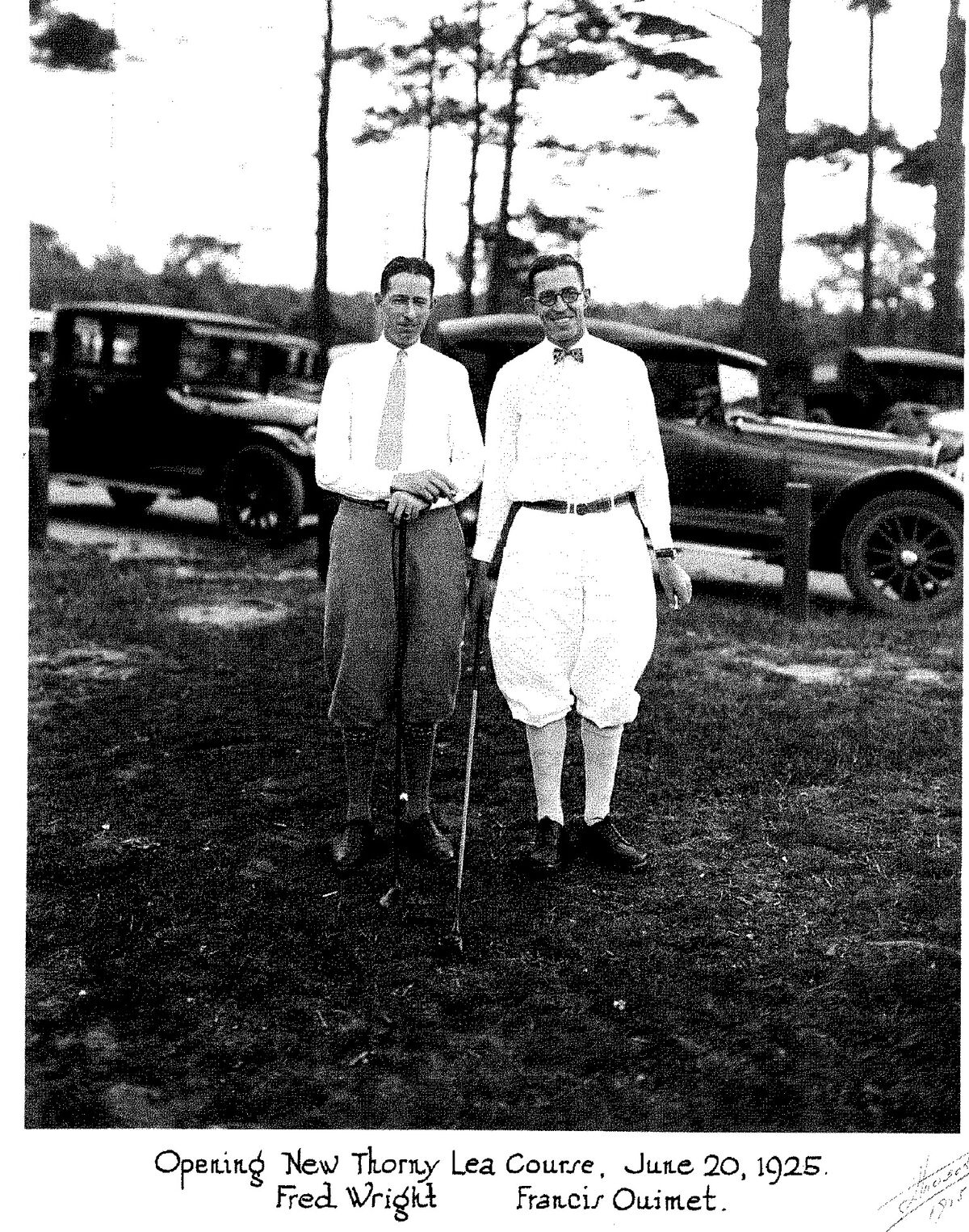 Nevertheless, it was only a matter of time before Thorny Lea expanded to the standard complement of 18 holes. Boston-based golf course architect Wayne E. Stiles and John Van Kleek, who had together designed several noteworthy courses in the Northeast, including Taconic Golf Club in Williamstown, were hired to do the job.
The new course officially opened on June 20, 1925, with an exhibition match that included Francis Ouimet, the 1913 US Open winner, and a man named Marden, then the Brockton Country Club champion, who squared off against perennial Massachusetts Amateur champion Fred Wright and Thorny Lea champion Alan W Barlow. Ouimet and Wright both scored one-over par 73s and the match ended up even after 18 holes.
There were several other matches over the years. Walter Hagan and Horton Smith visited Thorny Lea in June of 1928. Gene Sarazen and Babe Didrikson played an exhibition in 1935. And a little later, professional golf's Gold Dust Twins, Byron Nelson and Harold "Jug" McSpaden, toured the course.
Our illustrious Hall of Fame member
While Thorny Lea has produced noteworthy amateur and professional champions over its 111 years of operation, the member who rose to the loftiest heights in the world of golf was a man who worked with a pen, Herbert Warren Wind. Identifying him as simply a writer is denigrating his work. Herb was the Poet Laureate of American Golf in the 20th century. His father, Max, was a successful businessman in Brockton's shoe industry who took a membership around the time the club expanded to eighteen holes. Herb was taught how the game should be played in an era when proper etiquette was as important as a well-honed swing. Mr. Wind was inducted into the Massachusetts Golf Hall of Fame in October of 2016. Click Here to View Herbert Warren Wind
Incubator of golfing excellence
By the 1950s Thorny Lea had become a Mecca for good golfers, a breeding ground of excellence. In the last half of the century, Thorny Lea was the home of champions. Over the next 60 years, Thorny Lea golfers won nine Massachusetts State Amateur Championships, and year to year the handicap rolls regularly listed more than 100 golfers with single digit handicaps.
John M. Tosca, Jr., and Edward "Smiley" Connell emerged as state champions in the 1950s. Connell won his state championship in 1955 at the Myopia Hunt Cub in South Hamilton, and Tosca won his first championship in 1959 at Taconic in Williamstown. Eleven years later, at the Essex County Club in Manchester-By-The-Sea, Tosca added his second championship. His opponent in the 36-hole final was a fellow Thorny Lea member, Tom Cavicchi, who later turned professional.
Thorny Lea's most impressive showing was in the 1981 Massachusetts Amateur Championship at Taconic when ten Thorny Lea golfers qualified for the championship. Of the ten, eight were among the thirty-two who advanced to the match play portion of the championship, with one, Steven Tasho, going on to win the championship.
Tasho goes on a roll
Steve Tasho won the first of his two State Amateur Championships at Taconic, the same club where Tosca had won his first crown. No club in the State Amateur championship has ever had so much representation in match play. Tasho went on to win a second title at Myopia in 1985, on the same course and 30 years after Smiley Connell had begun Thorny Lea's dominance in the tournament. The other Thorny Lea golfer to capture the State Amateur in the 20th century was Bruce Douglass, a fair-haired long hitter who came from neighboring Stoughton. He won his first title in 1975 at Winchester Country Club and followed it up the following year by repeating at The Country Club in Brookline.
In the first decade of the 21st century, longtime Thorny Lea member John Hadges realized a dream he had tended for more than 30 years when he won the 2008 Amateur at the famed Kittansett Club in Marion. He doubled the fun when he won again at Myopia Hunt Club in 2010.
Beyond the State Amateur wins
In addition to the prestigious state competition, Thorny Lea members have won numerous championships and awards over the years. Steve Tasho and brother-in-law Bruce Chalas teamed to win many a crown. Besides winning the Massachusetts Four-Ball title twice, in 1988 and again in 1994, they added a number of City Four-Balls and Cronin Four-Ball championships to their trophy case. And there was always Hadges, who notched wins over the years in the Ouimet Memorial Tournament and the Southeast Amateur fall competition.
Although Chalas never won the State Amateur, he has an array of championships under his belt. He won the New England Amateur in 1985 and is one of the few local golfers ever to qualify for the US Amateur and the US Open in the same year, at Baltusrol, N.J., in 1980.
Come the 21st century, a new face joined the Thorny Lea champions roster when young Matt Parziale won the New England Amateur two decades after Chalas had hoisted his crown. Matt has gone on to win the 2016 Massachusetts Mid-Amateur, 2017 Massachusetts Amateur, 2017 United States Mid-Amateur and will compete in the 2018 Masters Tournament.
The Foot-Joy: a winning stretch
In the second half of the century, several acclaimed tournaments were played at Thorny Lea. Beginning in the 1970s, the PGA of America brought its National Assistant Professional Championship to the club for a 13-year run. The tournament was sponsored by Foot-Joy, a Brockton golf-equipment manufacturing company. It was during this tournament that the competitive course record was set by Ken Allard, out of Katke-Cousins G.C. in Rochester, Michigan. He posted a 7-under 63. PGA Tour players Loren Roberts and Fred Funk jump-started their professional careers with victories at Thorny Lea. Besides winning at Thorny Lea, both went on to win a PGA Tour event at Pleasant Valley in Sutton, Mass.
Kevin Johnson, who ruled amateur golf in New England during the 1980s, won his second of three consecutive State Amateurs at Thorny Lea in 1988, the first year that tournament was held at the club. Hadges took medalist honors in the stroke play segment of the championship, fashioning a 1-over par 68-73-141.
Individual feats shine
There have been plenty of marvelous accomplishments at Thorny Lea over its first century and then some, and the club shares a couple of hole-in-one stories that few clubs will ever match. Only a few golfers have matched the deeds of John Gorman and Arnold Swartz, both longtime members.
On Oct. 25, 1953, Gorman scored an ace on No. 17, knocking a three-iron into the cup on the par-3. The following day, he repeated the feat. According to Golf Digest's national hole-in-one clearinghouse, only six golfers, including Arnold Palmer, have ever aced the same hole on consecutive days. Today a plaque sits on the seventeenth tee to remind everyone what was accomplished on this fearsome par three, the most difficult at Thorny Lea.
The following year Swartz, who as of this writing in 2011 has been a Thorny Lea member for 78 years, began his "Grand Slam of Aces" at his home club, a project that took 41 years and countless rounds to accomplish. Swartz remains the only club member to have aced all four par threes at the club. Golf Digest reports that only 45 golfers had ever completed the hole-in-one cycle at any particular golf course.
Clubhouses come and go
During Thorny Lea's 111-year existence, there have been four clubhouses. The first was no more than a shed and built in a day, costing just a few dollars. It was improved until World War I when a second clapboard-covered structure was built. That structure was replaced in 1960 by a stone and glass building that cost more than $100,000. In 2000 the club opened its present state-of-the-art facility, one of the finest clubhouses in New England.
Memories line the fairways, bunkers, and greens of this old club even as new members begin to carve new memories at a club where it's founding principles remain firmly in place.